April 18, 2022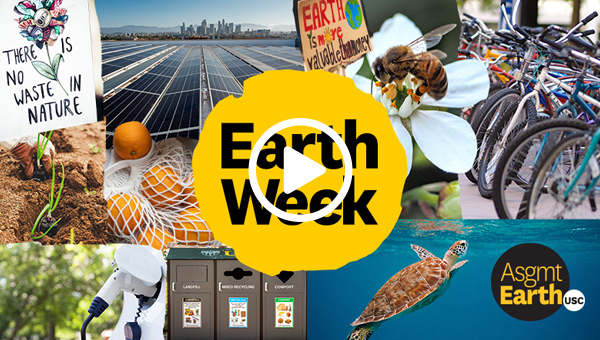 Dear USC community,
Welcome to Earth Week 2022, Trojans! This week offers a perfect lens through which to remind us that earth's life support systems are what sustain us and allow us to thrive. We are part of nature, and this Earth Week, we have reason to celebrate as we introduce our greatest challenge – Assignment: Earth – USC's Sustainability 2028 framework and visual identity.
Assignment: Earth is our roadmap for a greener campus and planet and will guide us as we transform our institution and work towards the arrival of the 2028 Summer Olympics in Los Angeles, where the eyes of the world will be upon us.
Today, we can't think of a better way to kick off Earth Week and our vision for a sustainable future than by announcing the elimination of single-use plastic beverage bottles on our campuses.
When President Folt first arrived at USC, she expressed her deep commitment to finding a way for USC to do something about plastics, which are responsible for so many problems related to our health and the health of the planet. From the micro-plastics we ingest through our food to the plastics increasingly choking our rivers and oceans, the long-term harmful effects of single-use plastics have yet to be meaningfully addressed.
Thanks to the leadership of USC's Auxiliary Services, Purchasing, and General Counsel, we are already seeing fewer plastic bottles at USC, and with the help of schools, departments, and everyone, they will virtually disappear from our campuses by July 1.
In April, scientists around the world warned that by 2025, global carbon emissions must start dropping dramatically to avert a global ecological crisis. Last December, President Folt committed USC to carbon neutrality by 2025. Through increased energy efficiency, solar power, transportation electrification, and carbon offsets, such as tree plantings that rebuild ecosystems and absorb our remaining emissions, we will get there. We will also explore ways to scale carbon removal – using technologies developed here at USC – to extract carbon emitted by us and others from the atmosphere and redirect it to productive use.
Assignment: Earth extends far beyond USC's operations. It encompasses education, research, inclusion, and engagement, and is designed to strengthen our relationships with each other and the planet. I encourage you to learn more at sustainability.usc.edu, the new gateway to all of the incredible work being spearheaded across this university to promote and implement sustainability.
I want to take this opportunity to thank all of the students, faculty, and staff who contribute their time and effort to the Presidential Working Group on Sustainability. We couldn't have brought Assignment: Earth to fruition without you.
Finally, I hope that during Earth Week, you'll take the time to participate in some of the over 30 diverse activities and events that faculty, students, staff, organizations, departments, and schools are hosting. Through this line-up of programming, you'll discover how you can contribute to the many ways USC is helping people and the planet thrive.
I trust you'll be as impressed with the diversity of opportunities as I am. It truly speaks to the breadth and quality of the engagement, education, research, and action of the USC community. Fight On!
Sincerely,
Mick Dalrymple
Chief Sustainability Officer