To: USC Students and Parents
From: Sarah Van Orman, MD, MMM, FACHA, Chief Health Officer for USC Student Health, Division Chief for College Health, Keck School of Medicine of USC
cc: USC Faculty and Staff
Date: October 6, 2020
Subject: Fall Community Health Update
As we approach the middle of the fall semester and beginning of flu season, we are sharing this update on COVID-19 in the USC campus communities—we hope this information will provide context for steps each of us can continue to take in safeguarding our health and the health of our friends, family, and community.

Early Spike in Cases

Like many colleges this fall, we saw a spike in cases among students at the very start of the semester, coinciding with a larger population that moved in to off-campus private housing. The positivity rate and number of new cases peaked during the week of August 29, when a total of 186 new cases were reported that week; the positivity rate for symptomatic testing jumped to 27.5%, and surveillance testing positivity rose to 2.5%.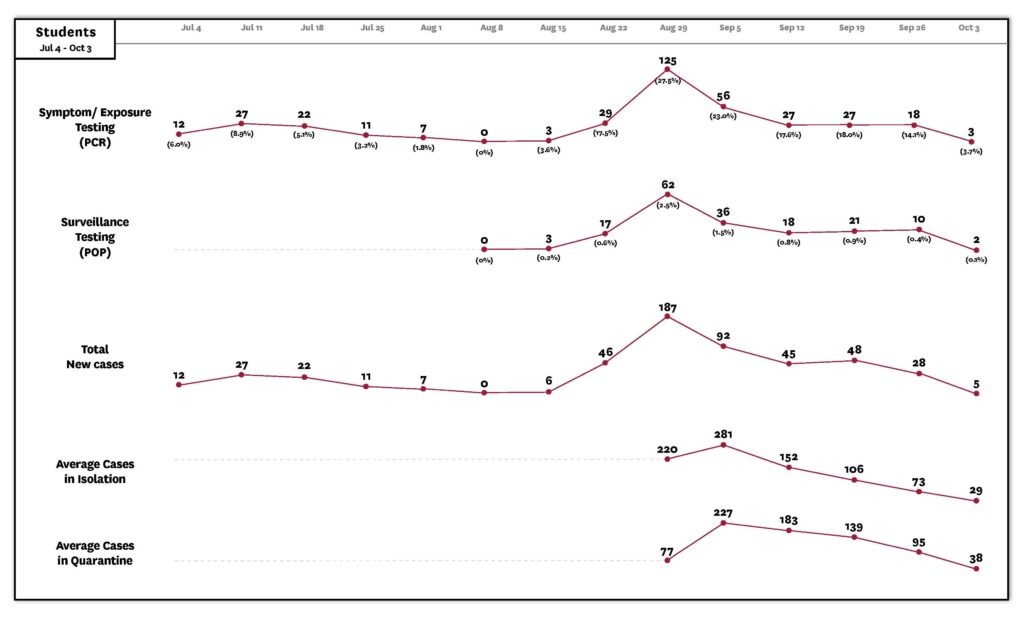 Current numbers have fallen considerably since that period of time, with 5 new student cases for the week ending October 3rd . While this is both a relief and an improvement, we cannot let down our guard or be any less vigilant in our disease prevention actions (avoiding gatherings, good hand hygiene, wearing face coverings and staying 6 ft. apart). It is all too easy to have another quickly spreading cluster of transmission among friends sharing a meal, or colleagues dismissing mild symptoms and going to work.

Testing

For students living near campus or in USC Housing, we urge you to become a regular participant in asymptomatic surveillance population testing (Pop Testing). Weekly testing for USC Housing residents is required and recommended for other students living off campus; and this helps provide data for a safer broader re-opening of campuses. Testing, contact tracing, quarantine/isolation are critical operations to having any in-person activities, and we need our community to participate regularly as asked.

Note: if you are feeling ill, or have been exposed, please arrange to be seen at the symptomatic testing area in Engemann Plaza, for your safety and the safety of others. Call 213-740-9355 (WELL) or send a secure message through https://usc.edu/myshr for symptomatic testing. If you have questions about testing or are reporting a positive case, the COVID-19 hotline is available 7 days a week until 9 PM, 213-740-6291, covid19@usc.edu.

Flu Immunization

You may have read about the growing public health concern over the upcoming fall flu season. To help alleviate a potential "twindemic" of flu and COVID-19 presenting among patients in our health care systems, a coordinated effort with our entire community is a high priority. We have announced the "Flu and U" campaign, culminating in USC "Flu and U" day on October 22, in advance of the Nov. 1 deadline for all on-campus students and employees to be vaccinated. A digital marketing kit is available online for student groups and organizations.

The flu vaccine is a new requirement for all on-campus students and employees, and highly recommended for individuals everywhere. Please plan on getting a flu vaccine by November 1.

Mental Health

In addition to the common concerns that students typically seek help for (i.e. depression, anxiety, relationship concerns, academic concerns, etc.) we know many of you are also struggling with feelings about the inability to return to campus and lack of connection with friends. Some may be struggling with uncertainty about the future, financial insecurities, and health fears. Other issues include challenges of being home, current political and civil unrest, as well as general uncertainty about the future. Yet there is also resilience through the difficulties. For those with strong emotional support networks, the pandemic may be allowing you to "hit pause," do more self-care, self-examination, spend time with family, explore what gives you meaning and purpose, and grow in unexpected ways.

We want you to know any and all of this is very, very normal under the current situation, and you are not alone. If you need help, reach out, schedule a "Let's Talk" conversation through usc.edu/myshr, or contact Counseling and Mental Health services at 213-740-9355 (WELL). We're here for you.

We hope you continue to stay safe and stay well.