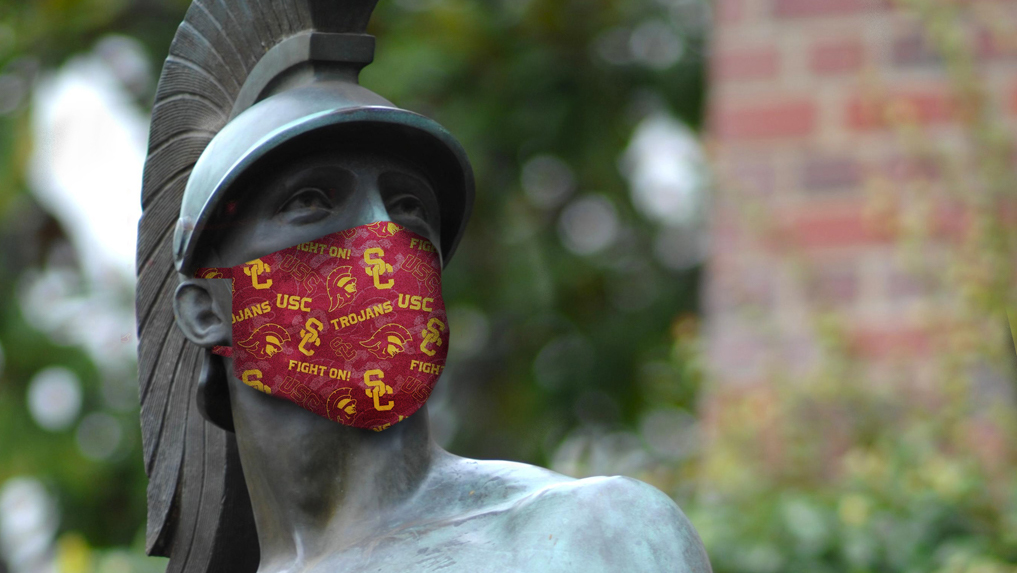 As Trojans, we fight on. And, as a community that supports and respects one another, we can all join the fight against COVID-19. United and committed, we will prevent the virus from spreading. Commit to protect yourself, your peers, your neighbors and the entire Trojan Community. When we all thrive, we all succeed.
Protect Myself
Self-monitor for any symptoms associated with COVID-19.

Wash hands frequently and thoroughly with soap and water; if soap is unavailable, use hand sanitizer (60%+ alcohol content).
Learn about SARS CoV-2 variants and vaccine effectiveness.
Protect My Peers
Stay home when sick and contact USC Student Health or a physician if necessary.
If not fully vaccinated, wear a face covering around others. Follow current university guidance on masking, distancing, or other protective measures as directed.
If personal protective equipment (PPE) is assigned, wear as instructed. Take care when putting on and removing PPE, to minimize infection.
Protect My Community
Keep frequently touched common surfaces clean by using disinfectant wipes.
Participate in training sessions, and follow instructions for screening, testing, contact tracing or any other measures to contain spread.
Be mindful of others who may be at a higher risk for contracting the disease.
Respect neighbors by practicing physical distancing, wearing face coverings, and being aware of noise levels. Avoid hosting or attending in-person gatherings and follow city guidelines on public congregating.
If you test positive for COVID-19, notify the USC COVID-19 hotline: 213-740-6291 or covid19@usc.edu.
Support those who need help, and if concerned about a friend or colleague, contact Trojans Care for Trojans.
As a caring and responsible member of the Trojan Community, I am committed to doing my part to prevent the spread of COVID-19. I know that this helps protect myself, my peers and my community.